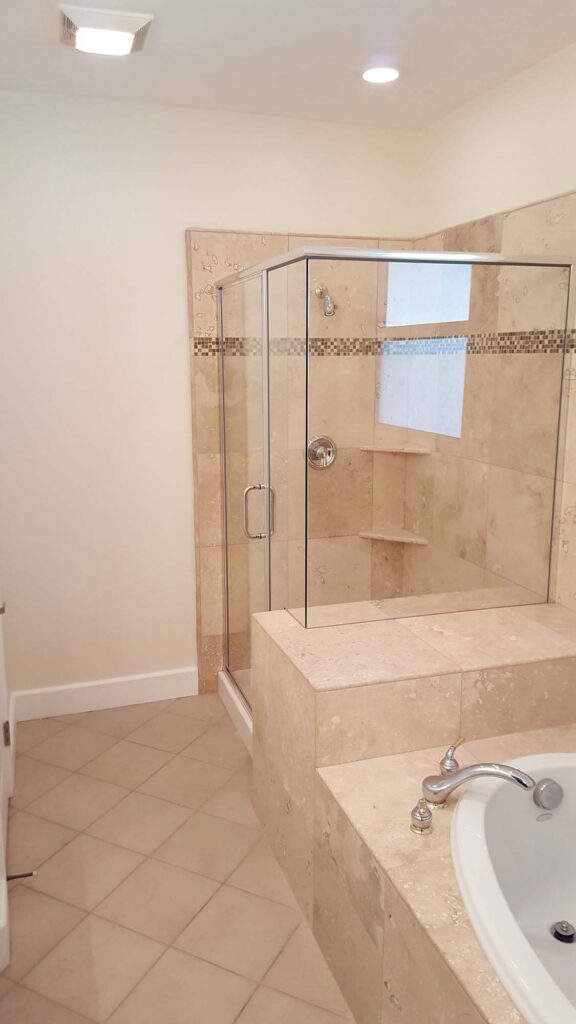 Semi-Frameless Shower Doors & Enclosures
"Installed Right!"
Tempered safety glass is typically 3/16" to 1/4" with some exposed polished or mitered edges. A semi-frameless design is very customizable providing clean lines using glass-to-glass corners with handle and towel bar options. Both 3/16" and 1/4" clear glass provides rigidity and clean lines.
 Semi-frameless design minimizes the use of metal and allows easier maintenance. Stall showers rŸequire top aluminum header support and sliding shower enclosure top tracks. Semi-frameless shower doors and enclosures are available in most common finishes.
Semi-Frameless Swing Doors:
Typically has no frame on two or three edges. There is no frame across top door, down handle side of door, and in some cases across bottom of door. Some doors may use a removable polycarbonate bottom splash deflector making it very maintenance friendly. Hinge side of door requires aluminum continuous hinge rail for strength and water retention.
Traditional Style:
Typically 3/16" glass handle is clamped to the edge of glass and door is magnetically held closed by the aluminum latch jambs vinyl seal near the handle. Support headers for stall showers/enclosures typically use square/contoured profile.
Euro Style:
Typically 1/4" glass. Handle is mounted through the glass with a back-to-back through the glass handle. Door is magnetically held closed to the aluminum latch jambs vinyl seal by a latch bracket mounted to the edge of the glass. Support headers for stall showers/enclosures typically have a rounded or Euro Profile.
Stall Showers/Enclosures:
Swinging, or Sliding Door System, with One or More Stationary Glass Panels:When two stationary panels join together you may have the option of eliminating a corner post to create a glass-to-glass silicone corner joint, this gives your new shower a more open, cleaner and refined look.
---
You may be able to eliminate other portions of framework on your semi-frameless shower enclosure as long as guidelines are followed as to not effect the structural integrity of the enclosure. These methods not only offer a clean look, but are easier to maintain and help create a hygienic shower.
ŸInline and corner posts are generally required when a semi-frameless swinging or sliding door meet a stationary glass panel.
Semi-Frameless Sliding Tub & Shower Enclosures
"Installed Right!"
Most common application, Tub Enclosure:
Used where a swing shower door would not be practical because of limited swing space or where access is required at both ends of the shower.
ŸTypically available in 3/16" and 1/4" glass. Also available in 5/16" and 3/8" thick glass for added heaviness and rigidity. ŸNot all glass Patterns are Available in all Thicknesses.
Polished Glass Edges
Very Customizable
Most Common Finishes Available
Header Profile, Towel Bar/Knob, and Glass Options
Now  Available in New Hi-Tec Track Systems, With Minimalist Designs
Semi-frameless sliding enclosures typically consist of a top track/header suspended by two vertical wall jambs. Also an easy clean bottom track and/or center guide that retains and stabilizes the bottom of the slider glass panels. The sliding door panels themselves are frameless and are suspended from the top track by a set of roller brackets that are siliconed, clamped or studded through the slider glass panels.
Sliding shower doors typically have a small handle or knob on the inside slider panel, and a towell bar on the outside panel.  For a less obstructed look you may option to use only 2 handles or knobs.
Towel bars, handles or knobs, have a low profile face or fastener, this allows the glass panels to completely bypass one another for easier cleaning.
Traditional Style:
Typically 3/16" glass, handles and double run towel bars are clamped to the edge of glass. Top track/ headers are a square/contoured profile.
Euro Style:
Typically 1/4" clear glass, knobs and towel bars mounted through the glass and use a much heavier top track/header that have a rounded Euro.
*Note that some manufactures make both a heavier gauge and lighter gauge top track/header. Be sure to know what you have been quoted.
Fully Framed/Framed shower doors,: Typlcally 1/8 to 3/16'" tempered safety glass, no exposed glass edges. Usually an entry level shower door. Not always the most cost effective. Limited options, more framework, more difficult to maintain.